Scala Hosting might not be that big of a name when compared to the big guns in the world of web hosting. But make no mistake, when it comes to providing reliable web hosting services, they are on par with all those big names. Scala Hosting is the perfect example of the proverb "Don't judge a book by its cover!"
Scala Hosting provides its users with quite a lot of options and features. Its users can choose between Shared hosting, Email Hosting, WordPress Hosting, Cloud Hosting, and Reseller Hosting. In short, Scala Hosting is a special web hosting provider. So, what's so special about Scala Hosting?

Scala Hosting Review:
There are quite a lot of reasons because of which Scala Hosting is said to be special. Well, lets cover the features of these hosting providers first.
SShield Security System:
The SShield Security System is an AI that provides security to your account 24/7. It is one and the only job is to monitor and check all the activities that go on in your account. So, if it detects any kind of malicious activity or any kind of web attack, it will block that and instantly alert the user.
The best thing about this security system is that it doesn't need anyone to manually update it as all kinds of activity carried out by this system is automated. It has been claimed by the company that this security system has the capability to block 99.98% web attacks.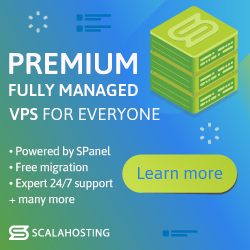 SPanel:
The functions of the SPanel is the same as the cPanel but only with a slight advantage. The SPanel is very lite and its users can quite easily keep track and manage all of their accounts and domains You can also monitor the server activity easily with the help of the SPanel.
The SPanel has other benefits too as it provides the user with the authority monitor and restarts the services as they feel to be right. In short, you will be given access to the admin panel and you will be able to control your server as you wish.
SWordPress Manager:
This SWordPress Manager is very easy to use and with the help of this, you can manage all your websites with ease. The biggest benefit of this manager is that along with making your task easier it also adds a few layers of security to your websites.
Apart from that, you will also be able to install WordPress with ease and can also reset the admin password whenever you feel like doing it. The company has also stated that a few new features such as Cloning, etc, are in the developing stage.

Customer Support:
Scala Hosting Provides its users with 24/7 support, and they do provide what they promise. They can be contacted through Email, Phone, or Live Chat. Even the response timing if Scala Hosting is quite impressive. But the only issue with them is that their billing hours are from 2:30 AM to 5:00 PM and that too from Monday to Friday.
Site Load Speed and Uptime:
Despite being quite new to the game, they have been providing seamless services. The site load speed has been calculated to be around 406ms, which very good despite being such as a new web host. This easily puts them alongside the top dogs in the game. Along with that, the uptime provided by them is around 99.95%, which again its very good.
So, these are some of the features of Scala Hosting. Scala Hosting is one of the best web hosting providers out there and if you are in need of something that provides reliable services at cheap prices, then this is what you should go for. We hope that this post has been informative enough for you.