When speaking about Siteground then it is the perfect hosting website, with awesome performance, eye-catching features, and consistent fast speed. This app was found in 2004 by Sofia, Bulgaria. They provide various hosting, cloud computing services. Some of the hosting plans are StartUp, GrowBig, GoGeek. These all plans with many features and the price differ from plans. 

 It has data centers in 5 countries and has 800,000 domains all over the world and about 400 people as employees. The employees are very dedicated and feel happy to work with the SiteGround company. It has really taken care of their employees and give them a high priority. Siteground is known for its customer-oriented services and best plans at affordable rates. It offers free transfer of domains and helps in website building also, which makes it more popular. Now we are going to explaining about Pros and Cons of SiteGround complete review is discussed below;
The Pros of Site Ground:
Faster Loading

 –when speaking about speed is the king every time. If the site gets slow even for 1 second, lakhs of money is lost by the company. Seeing all this, the SiteGround has built its website nicely with software and hardware. They use SSD (increases the speed of data being delivered) in all their servers. It has its own super cache. The software is always updated from time to time, which increases the speed and smoothness of the website.

Quick server response times

 – Server response time means how much time the server takes to respond for a request before displaying content. The response time of site ground worldwide is 129.8ms, which is really amazing and fastest from other sites. 

WordPress host – For becoming the best web host for WordPress, it really takes a lot of effort, speed tests, etc. Being on top SiteGround provides the best hostings and transfers. 

Customer Support

 – The customer support section of SiteGround is just excellent and no one can beat it. They have 24/7 live chat, phone support, 30-day priority support, and many other customer-related services. It is best known in the world and never disappoints anyone. 

System Backup 

–when speaking about this website then backups the data automatically, so your time on saving data will be saved. It makes your work very easy and time-saving. 

Site migration

 – They offer free transfer of website with each account. You can give them a cPanel id and password, and they will do everything for you. 
The Cons of Site Ground:
Resources

 – when speaking about their resources then the shared hosting options are very less. You can use limited resources only with one account. 

Pricing 

– Once your subscription gets over, then you need to pay the amount demanded by the site, there are no other options than this. It is a little bit costly but worth to purchase. 
For hosting always use the best websites, and do not see the price first, first, you see the amount of money they are demanding for the services. Keep your website safe and attractive to be on the top-ranking list. 
Now we are going to explaining about hosting plans;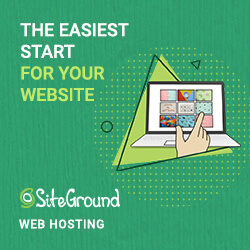 Hosting Plans:
Startup: when speaking about start-up then we can say that this plan is completely suitable for those who need to have only one site. And the most important thing is it's completely cheapest in the hosting industry. For business or personal blog at 3.95/month. 
Grow big:
When speaking about this then it also suitable for those who are doing bloggers like me and you and who need more server resources. 
GoGeek:
When speaking about this plan then it comes with 4 times more server resources and they offer to staging feature. Also, if you are doing hosting and blogging then your website will be hosted on a server with a limited number of websites. So, if you take my suggestions then you should go for it. Because this plan is the best choice for you, if you need a Gift/staging feature and free backup& restore without a doubt you need to go for it. 
If you take my suggestions then you are to get at least a three- year hosting package of the Growbig plan. And also, you will get 705 discounts. the most important thing is hosting a discount is appropriate only on the first statement, which is why purchasing a 2-3-year package, and it will save you a ration of money.
Conclusion:
I hope we have included all the information about the pros of SiteGround. stay tuned for more updates.
Thanks for visiting.